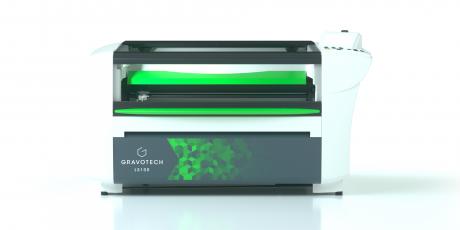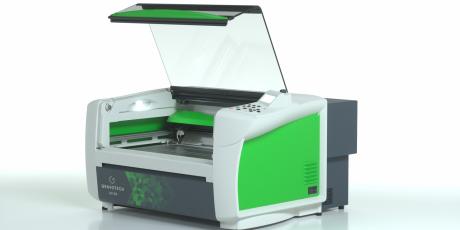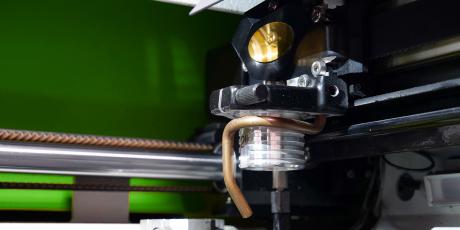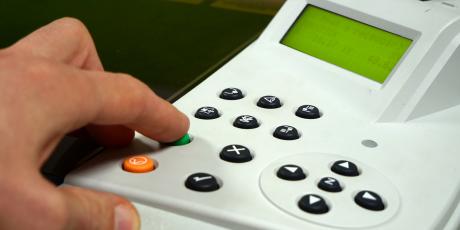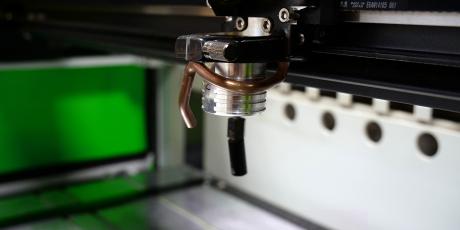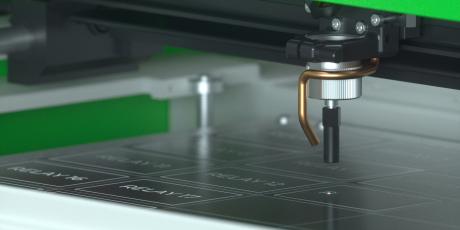 LS100 - CO2 laser engraver for signage, creative cutting, and personalization.
LASER TABLE
The LS100 is enclosed, easy to operate, and is a compact laser engraver. This compact laser engraving machine is suitable for laser cutting and engraving. This laser cutter is built to last.
ENCLOSED CO2 LASER ENGRAVING MACHINE SUITABLE FOR BEGINNERS AND EXPERTS IN SIGNAGE

 
LS100 is the only CO2 laser engraving machine and laser cutter on the market made of one-piece aluminum chassis. It includes CAD/CAM software and an RF laser source.
 

OUTSTANDING VALUE FOR A LASER MARKING MACHINE

 
The LS100 is a small laser engraver that is perfect for in store usage and customers enjoy seeing their purchases engraved while they wait. This laser marker can be used for many of your applications. 
 

SIMPLE WORKFLOW, MINIMAL OPERATOR TRAINING REQUIRED

 


Automatic touch sensing, embedded control dashboard, and backlit engraving table with a wide front-loading door are just a few features to make your job easier! Low operational noise allows you to comfortably use this engraving machine in retail stores, small shops, and residential areas.
Technical Specifications
Integrated air compressor to keep the lens clean and ensure high-quality engraving results.
Protect the focal lens by pushing the fumes towards the exhaust area and reduce flaming when cutting.
This also increases the life span of lenses and creates safer working conditions for the user.

Autofocus: automatic vertical adjustment

Embedded dashboard allows modifying the job and fine-tune the settings.

Dedicated software
Point and shoot: Easy positioning and job set-up.
Print and cut: precisely cut printed products, without the need for additional materials.
Multi-technology software, allowing to centralize designs settings, experience, and knowledge into a single work environment.
General
Source laser
CO2, Energy
Available power version
25W - 30W - 40W - 60W
Marking Capacity
Marking area max (L x W)
460 mm (18.1 in) x 305 mm (12 in)
Available lenses (in)
1.5'' - 2.0'' - 2.5'' - 3.5'' - 4.0''
Max object height
145 mm (5.7 in)
| | LS100 |
| --- | --- |
| Laser Source / Technology | |
| Max. object weight | |
| Dimensions (L x W x H) | 775 mm (30.51 in) x 725 mm (28.54 in) x 450 mm (17.71 in) |
| Machine weight | |
| Automatic Z axis | |
| Noise level | |
| Point & shoot | |
| Operating Temperature | 10° C (50° F) - 35° C (95° F) |
| Connection to computer | |
| Maximum speed | |
| Laser safety classification | |
| Beam diameter | 0.1 mm (0.004 in) to 0.4mm (0.016 in) |
| Software | |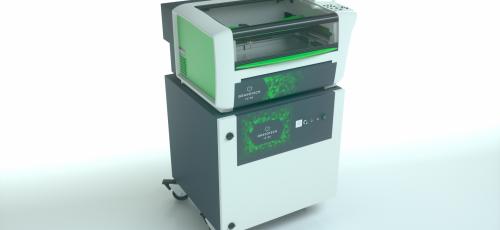 The LS100 is an automated, silent, and space-efficient laser cutting and engraving machine. No bulky and loud separate blower or compressor, the exhaust and air assist are integrated and triggered automatically. Place the items into the well-lit cabinet and front-loading door and let the laser marker detect their height for accurate positioning. All lasering parameters are saved in a material library for increased productivity.
Are you looking for a smaller engraving machine but still as versatile as the LS100? Take a look at our M40 rotary engraving machine!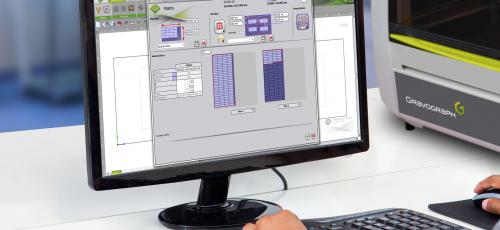 The LS100 small laser engraver is available with Gravostyle, our unique dedicated software, to create and edit designs, vectorized logos and pictures, use specific fonts in every languages and alphabet, compose in Matrix mode. This software is also an advanced piloting tool for your LS100. This CO2 laser engraver can also be used with third party software.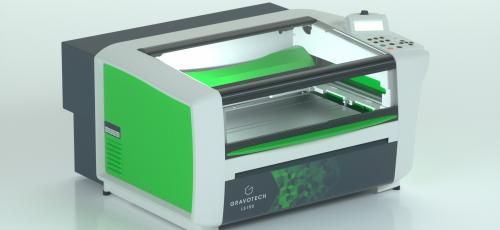 The LS100 Energy is the only premium laser marking machine in this size. This is an great choice for first-time buyers or those on a reduced budget. This small laser engraver uses a different laser source that ensures the same cutting quality but with a slight reduction in engraving quality. This option is only available at Gravotech.
This laser engraver can handle more than 30 materials
CO2 TABLE
ORGANICS
Ceramic​​
Electrical and Medical Ceramic
Food​​
Glass, Crystal
Leather
Paper​​, Cardboard, Cork
Rubber​​
Silicon
Stone​, Granite​, Marble
Textiles​​
Wood, Varnished Wood
PLASTICS
ABS​​
Foam​​
Laminates​​
PA
PC
PE, BET
PMMA, Acrylic
POM - PBT
PP
METAL
Anodized Aluminum​​
Coated Metal
= Engraving / Deep marking
LS100: Gravograph first lasers
LS100: The first laser machine by Gravograph
Gravograph, our historical brand dedicated to personalization and signage, started to develop its fleet of laser machines in the late 1990s.
Gravograph's technical team has worked tirelessly to not only master this new laser engraving process but also to create the best possible machine.
The L-Solution range, developed by Gravograph and launched in 2001, revolutionized the world of laser machines because Gravograph included numerous new functions such as autofocus, automatic safety shutter and many more. The LS100 followed in 2006 with an improved design and engraving and cutting functions.
The LS100 is a bestseller thanks to the combination of Gravograph heritage and Gravotech's continuous improvements, which make the LS100 one of the strongest, most reliable and most durable laser machines on the market.