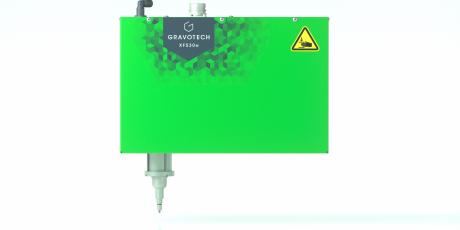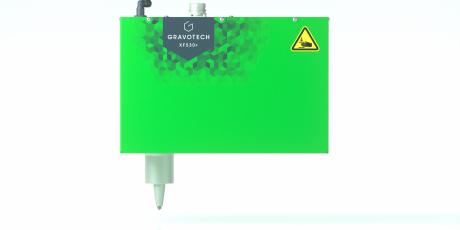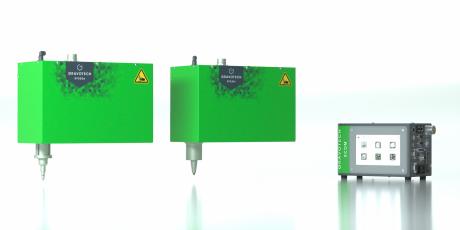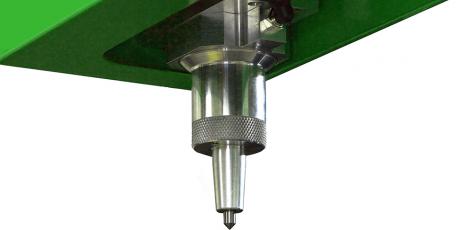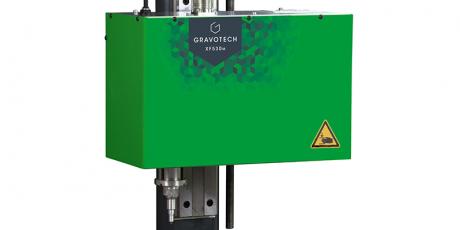 XF530 p/m: Deep and indelible dot peen marking
INTEGRABLE DOT PEEN - DEEP
This dot peen marking machine creates durable tamper-proof marks on all metals. This is the perfect solution to identify parts that will withstand harsh conditions, direct marking before part processing and for anti-counterfeiting markings.
DEEP MARKING With up to 20 thousandths depth, the XF530 dot peen machine is the only deep engraving solution able to reach this level of depth in such a short cycle time. The marking results are clear and resistant to weather conditions, contaminants,

rust, etc.

Guaranteeing long

term readability.

It's

also the best solution to

perform direct

marking before part processing, painting or surface treatment.

DEDICATED SOLUTION FOR LARGE CHARACTERS The XF530 large marking area of 7.87X3.14 in is specially adapted to engrave large characters (more than .39in height) for easy readability from a long distance or in outdoor locations. This deep dot peen marking machine is the perfect solution for the oil & gas market and building industries.
ROBUST & RELIABLE This deep dot peen engraving machine in pneumatic or electromagnetic version is made of high-quality and high-performance components. Its proven design has been improved during decades to obtain exceptional durability and reliability, especially in the most demanding applications. XF530 is guaranteed to have durable tamper-proof marks on all materials with a reduced cost of ownership.
Technical Specifications
XF530 exists in two versions
Pneumatic (p) - Requiring compressed air
Electromagnetic (e) - Electric version

High-performance styluses
Specific Carbide material is used for the stylus tip allowing mark on all type of metals and giving long durability.

XCOM controller
A color touchscreen
It pilots your marking head and the use and management of your markings.
No need for PC, all you need is at your fingertips.
The most communicative control unit on the market
RS232 ports, USB, Ethernet TCP/IP, Profinet, Ethernet IP, EtherCAT, 8 input/4 output for easy integration into all production lines.

Different usable fonts
Continuous line and dot by dot depending on the chosen version.
General
Technologies
Dot peen pneumatic &
Dot peen electromagnetic
Main advantage
Large marking
Marking Capacity
Marking area (L x W)
200 mm (7.9 in) x 50 mm (2 in)
Material hardness (HRC)
<62
| | XF530p | XF530m |
| --- | --- | --- |
| Model | | |
| Technology | | |
| Dimensions (L x W x H) | 343 mm (13.50 in) x 170 mm (6.69 in) x 221 mm (8.7 in) | 343 mm (13.50 in) x 170 mm (6.69 in) x 221 mm (8.7 in) |
| Marking area | 200 mm (7.87 in) x 50 mm (1.96 in) | 200 mm (7.87 in) x 50 mm (1.96 in) |
| Machine weight | | |
| Communication Interfaces | RJ45, USB(x2), RS232, 8I/4O, Process IO | RJ45, USB(x2), RS232, 8I/4O, Process IO |
| Fieldbus (option) | | |
| Embedded fonts type | | |
| Display | | |
| Operating Temperature | 5° to 45° C (41° to 113° F) | 5° to 45° C (41° to 113° F) |
| Available languages | | |
| 2D codes | | |
| Safety Performance Level (option) | | |
| Power consumption rate | | |
| Input voltage | | |
| Compressed air supply | | |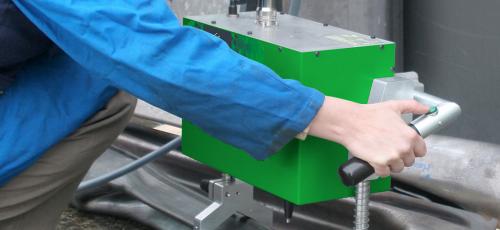 Our range of products is easily transformable into a mobile solution to mark large parts.  With a pair of large handles for easy positioning combined and standard or customizable feet, the machine is always firmly positioned on the part. Also, 2 rings at the top can be connected to a balancer for improved ergonomics and to integrate into pipeline marking.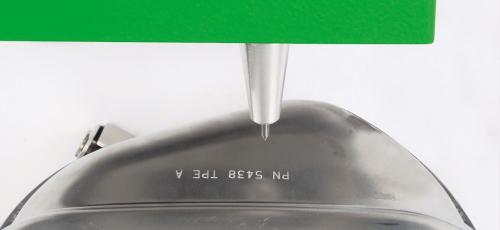 Our pneumatic dot peen machines are the best to mark text at a very short cycle time. Compressed air offers exceptional performance for markings. The stylus pin vibrates at high frequency, meeting the highest speed requirements in industrial sectors. Pneumatic dot peen is also the preferred solution to create direct marking before part processing, painting or surface treatments. The width of the line is large enough to remain legible even after paint, powder coat or plating has been applied.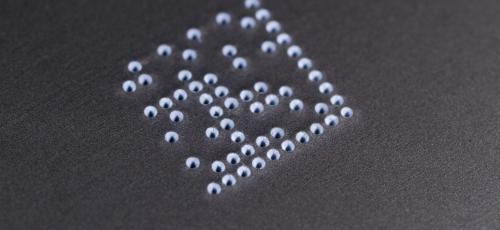 The electromagnetic marking machines are more suitable for applications needing great precision and consistency. It is perfect to create durable, tamper-proof 2D codes. The electromagnetic version has the highest amplitude, allowing it to absorb a height difference of .27in, making it the preferred solution for curved parts.
DOT PEEN
ORGANICS
Wood, Varnished Wood
PLASTICS
ABS​​
PA
PC
PE, BET
PMMA, Acrylic
POM - PBT
PP
METAL
Aluminum
Anodized Aluminum​​
Brass​​
Carbide
Coated Metal
Copper
Gold, Silver, Nickel, Platinum
Stainless Steel​​
Steel
Titanium